As experts in the field of "Space Situational Awareness (SSA)" and "Space Surveillance and Tracking (SST)" we offer software services to safely operate satellites and contribute to a sustainable space environment. Our cloud services contain a wide range of flexible modules and standardized interfaces to meet the specific needs of our costumers. Our first release contains to services for satellite operators:
Fusion and rating of laser ranging, radar and telescope data for independent overview
Simulation and consideration of all propulsion systems and types of satellites
Monitoring, evaluation and categorization of Conjunction Data Messages
Automated generation of collision avoidance maneuver recommendations
Validation of all suggested maneuvers against a high precision satellite catalogue
Optimization of avoidance maneuvers for risk reduction, minimum fuel consumption and individual mission targets
Notifications in Microsoft Teams, Slack and mail

Risk Monitoring Service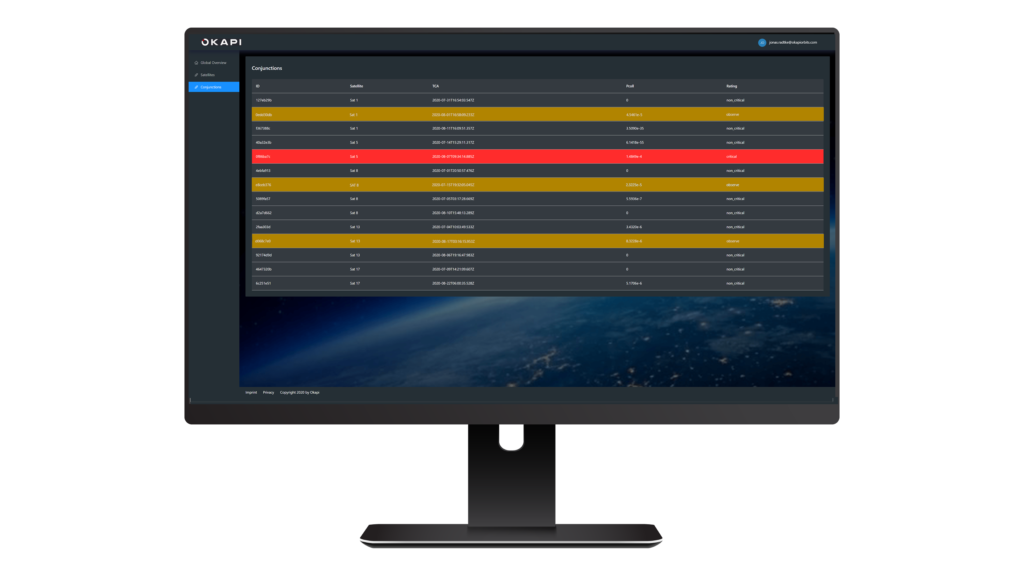 The Risk Monitoring Service is especially designed for satellite operators and the growing demands due to increasing amounts of space debris and potential collisions. It helps to monitor your incoming Conjunction Data Messages, to evaluate them fully automatically and to decide whether maneuvers are necessary or not. Via customization, you can provide further data, such as attitude data, GPS positions or tracking data, to refine the situational knowledge.
Features include:
Risk prediction & Risk estimation refinement
High risk notifications (mail, Slack, Teams)
Maneuver recommendations
Collision Avoidance Service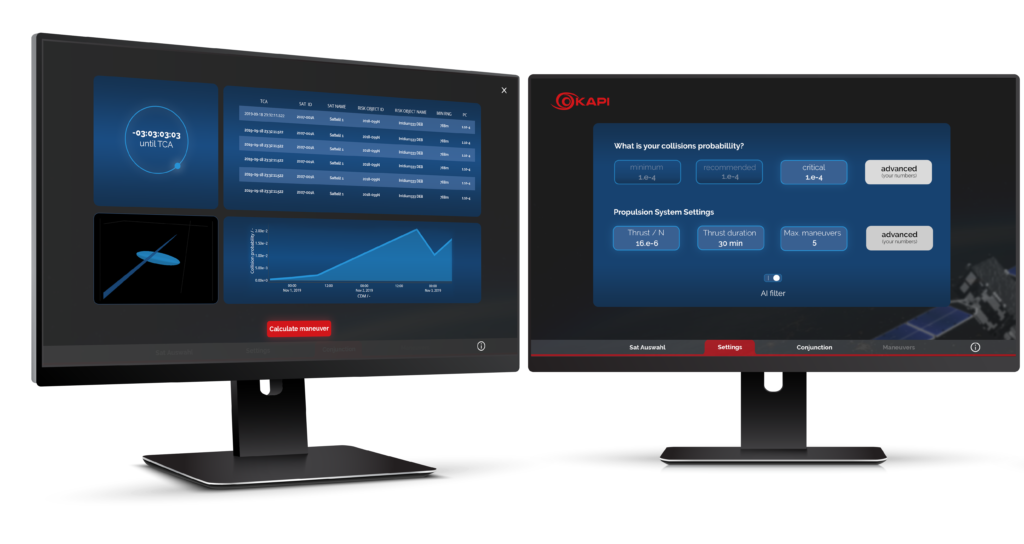 The collision avoidance service is designed as an add on to the risk monitoring service for satellite operators and constellations operators using propulsion systems . Using the service, you can fully automize your collision avoidance maneuvers based on individually set goals and risk mitigation strategies.
Features include:
Maneuver generation & customization (mission goals, constellation dependencies, propulsion system)
Maneuver check and avoidance maneuver validation against high precision space object catalogue
Individual workflow creation & data integration
For more information on prices and available rates, please contact our sales representatives.